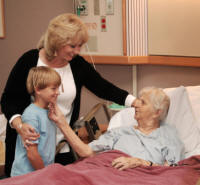 Having dealt with many families whose loved ones received poor treatment in care facilities, we have learned a little about what it takes to obtain good care. No facility is perfect, but as they say, an ounce of prevention is worth a pound of cure.
Choosing a facility
If you are choosing a facility and are fortunate enough to have more than one or two options, you will want to visit each facility.  Be sure to visit on both a weekday and a weekend, and also once at night, as the level of staffing and quality of care can vary widely during these times.  If the facility has a resident or family council, ask to speak with someone who represents it.  You should also review the facility's state licensing information; at least for nursing homes, the most recent licensing survey reports must be kept at or near the facility's front desk and available for your review.  Some of this information is also available online at:
www.medicare.gov/NHCompare/Include/DataSection/Questions/ProximitySearch.asp
Demanding good care
Once your loved one becomes a resident, you would be wise to stay on top of their care.  Visit often and at various times.  Do not be afraid to ask questions, and take notes.  If you don't like the answers you receive, ask your loved one's doctor, and keep calling and asking until you get a response.  The squeaky wheel does in fact get the grease.
But sometimes the squeaky wheel also gets on people's nerves.  Balance your questions with respect and kindness toward care staff, who do an important and sometimes dirty job, often for little pay.  It is not their fault if they are shorthanded or inexperienced.  When you see understaffing or lapses in care, always complain to the facility's management, preferably in writing.  It is their job to find out why care is lacking and fix it.
More Resources
California Advocates for Nursing Home Reform (CANHR) maintains a web page with very useful information regarding the process of finding and entering a facility and obtaining good care (www.canhr.org/factsheets/index.html).  Knowing your loved one's rights is half the battle, and CANHR does an excellent job of educating consumers in that regard.